Lawrence's Wife is a Host in the sci-fi western TV series Westworld. She is portrayed by Olga Aguilar.
After the Man in Black takes Lawrence back to his hometown, he holds his wife and daughter hostage to force Lawrence to tell him where the Maze is. The townspeople try to help Lawrence, so the MiB kills them all and shoots Lawrence's wife in the head to coerce Lawrence into giving him information.. Lawrence's daughter gives the MiB the clue he wanted, and he takes Lawrence and leaves the town, while she stays with the dead mother.[1]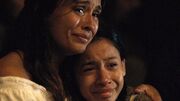 The Man in Black and Lawrence come back to Las Mudas, but are quickly taken hostage by Major Craddock and the Confederados, where they are placed next to Lawrence's wife and daughter in the church.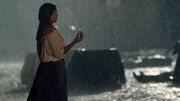 Craddock later forces Lawrence's wife to dance with him, and she is sent with a shot glass full of nitroglycerin to take to Lawrence. The Man in Black winds up killing most of the Confederados.
Three members of Lawrence's family are reunited briefly before Lawrence takes off again with the Man in Black.
Lawrence's wife appears concerned for him when the MiB brings him into the town and pulls out his gun. She sobs while the MiB demands information from Lawrence.
Lawrence's wife holds her daughter close while the MiB threatens Lawrence, and shows concern for her, trying to protect her from him.
Lawrence's wife had died 1 time on screen. The incidents which she died are as follow:
The gallery below is automatically generated and contains images in the category "Images of Lawrence's Wife". Images added to that category turn up in the gallery after a short time.
Community content is available under
CC-BY-SA
unless otherwise noted.