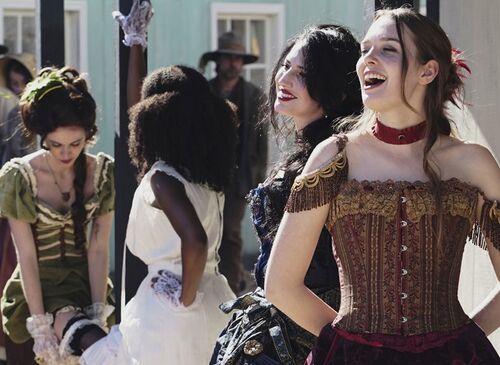 SXSW 2018
(some parts of this article were initially adapted from a syfy.com article by Kristy Puchko, referenced below.)
Production on the Westworld park experience started in November
2017.[1]
It took a 40-person crew five weeks to "build" (actually, to adapt the existing theme park) the park onsite in Texas.
58 different vendors had a hand in the production, from scenic design and construction to catering, landscaping and electrical.
The final script came in at 444 pages.
The cast features 60 actors, 6 stunt people and 5 bands, scouted primarily from the local Austin area, in addition to 6 local horses.
Each guest received a custom printed letter - from the post office
5 luxury Westworld shuttles, 8 co-branded Lyft cars, and 1 Delta shuttle flight were used to transport guests to the park from SXSW.
Gallery
Sweetwater
Westworld recreated part of Sweetwater, the main town in the Westworld park, for SXSW 2018. The actual event was hosted at J. Lorraine. Visitors were given a white hat or a black hat (to keep) and were able to wander around the town and interact with other guests and actors playing hosts - they did get an adventure to explore, but didn't have to stick to their narrative, guests could just wander around and explore if they preferred.
Called the "Live Without Limits Weekend", the event was open to the public. The experience began at the "EastSide Tavern", a restaurant serving as Mesa Gold Station which was overrun with beautiful Delos hosts with big, earnest smiles and dazzling all-white uniforms.
After signing in, the guests walked past a player piano (playing Soundgarden's, "Black Hole Sun."[2]) with pages that were splattered with blood (of course), then into a lounge, where everyone wore cowboy hats, white or black. Unlike on the show, there was no wall for guests to choose if they are to be a hero or a villain. Instead, they approached a smiling host at the hat check-in, who asked their name, blinks rapidly as she scans her files and the repeated the guest's name back to them and hands them either a white or black hat - a Stetson with the Westworld logo inside which the guests got to keep.
Then onto a bus decorated with horses and Westworld's logo and to the town of Sweetwater, which in this incarnation is 17 miles outside of Austin at in J. Lorraine, Texas. Upon exiting the bus, the guests were welcomed onto a train. and travelled through the train before hitting Sweetwater. Now, this train wasn't moving, but walking through its elaborately decorated cars, each peopled with a few actors who were devotedly in character, set the stage for the intense and insanely detailed experience ahead. The guests could interract with the hosts on the train, who also gave clues: "watch out for this guy," "mind the white light in the cemetery." There was even the swell of steam as they exited, making the atmosphere of the night a bit eerier.
HBO built a small town, complete with a sheriff's station, post office, barbershop, and more. You could sling back drinks and eat up beans and brisket at the Coronado. You could interact with the hosts, who all boast Wild West accents, wonderful costumes, and vibrant narratives. Or you could search for clues about season two - or all of that!
At the post office, there was a mournful young woman who begged to hear details of a life outside of Sweetwater. (She dreams of seeing snow someday.) There were hotheaded gunslingers that bristled in bars. A fastidious photographer offered a photo op and, unlike the show where guests are not allowed to take their own cameras into the park, here they were also encouraged to snap shots of every single nook and cranny of the elaborate and immersive experience. (If a host saw a fancy iPhone, they would just shake their head and say, "Doesn't look like anything to me!" - of course)
The guests were allowed to wander at will through the town seeing a lot, including a Samurai who strode through the two, not speaking to anyone. And a hint from some of the actors playing guests about "other worlds". There were also letters in the post office, addressed to individual guests (there's a picture of one in the gallery below) and another clue under the velcroed WW logo in the guests' hats.
There were also some set pieces to watch at close quarters. Here's a quote from a reporter who was there. Seems like quite an intense experience:
"
But for me, the most memorable experience of a night full of jaw-dropping fun and drama was the brutal gunfight that broke out in the town square. First, there was a ruckus. Guests ran to see what was going on, as two men faced off with shouts and threats of gunfire. Frantic, their women begged them to avoid bloodshed. I was so caught up in one's pleas, I didn't realize I'd stumbled into the action. I'd ended up in the middle of two men thirsty for a fight, and I spun on a heel to get to a safer distance (better vantage point). Just when it seemed they'd lay down their guns, a pair of costumed hoopleheads barged in and callously shot the older gentleman. His girl cried and clutched at his body as he fell and died, while his killer hooted with joy.

"I've been here 17 times and I finally got him!" The crass cowboy cheered. Then, he pulled out a camera-phone and dropped his Westworld persona to pose for photos with the corpse he created. This dead man was just a thing now to gawk at and pose with, even as he was mourned by his wife. Afterward, the killer and his equally rowdy pal walked off cocky, loud, and proud, curring through an astonished crowd. Then, the retrieval team swept in their white suits to carry off the body. They demanded the robots freeze. And throughout the crowd, people in Western gear went so frightfully still that I had to remind myself this is just a game. It's fun. You're not going to cry.

I rejoined some friends, and they asked if I was ok. Honestly, I was shaken to my core.

"

–Kristy Puchko, writing for syfy.com[3]
References
↑ http://spectrumlocalnews.com/tx/austin/news/2018/03/09/all-the-grit--grime--fantasy-of--westworld--comes-to-life-at-sxsw