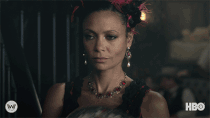 Hi, welcome to my profile.
This is one of my favourite shows!
Favourite Quotes
Edit
"Some people choose to see the ugliness in this world. The disarray. I choose to see the beauty."
"You can't play God without being acquainted with the Devil."
"All my life, I've prided myself on being a survivor. But surviving is just another loop."
"The hosts are the ones who are free. Free here, under my control."
Community content is available under
CC-BY-SA
unless otherwise noted.